A good pre-K or preschool curriculum is an important part of having a high-quality early childhood program. If you're looking for information about what a child should learn in pre-K, you're in luck! In this post you'll find the most common skills and concepts taught in PreK programs.
Although these skills are addressed and introduced, it doesn't mean pre-K students are expected to master these skills before moving on to the next grade level. All young children learn these concepts and skills at their own individual pace, when they are ready.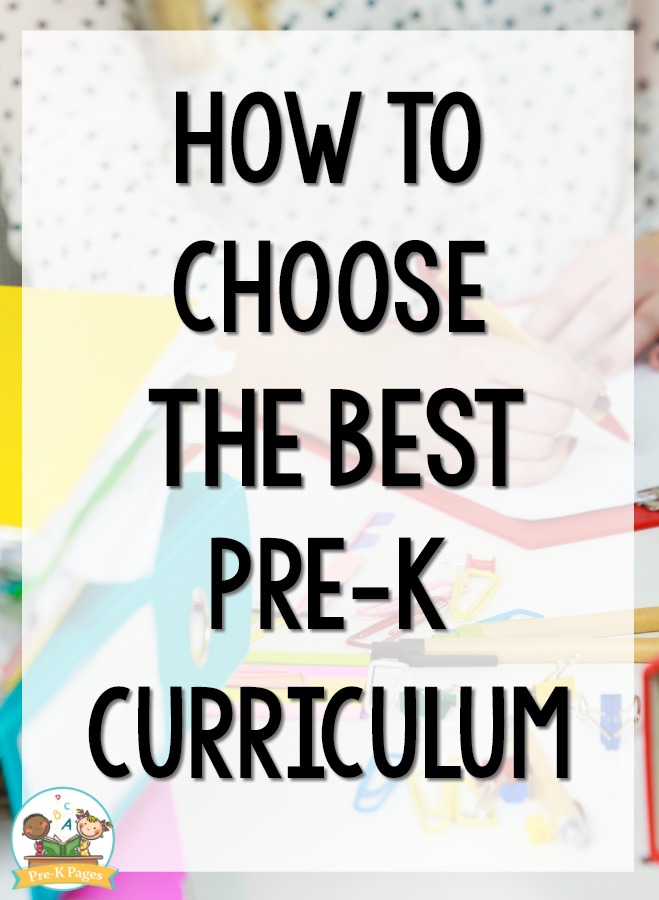 Young children learn best through hands-on experiences that incorporate engaging, high-quality picture books, catchy songs and rhymes, and fun games. These types of activities encourage playful learning and allow them to better connect with the expected educational goals.
When you're writing your lesson plans, it's important to ensure that you incorporate the concepts and skills your students are required to learn into your lessons. If you need help figuring out which skills to teach when, you can download our free curriculum pacing guide HERE.
Literacy
In a high-quality Pre-K Curriculum, the literacy and language arts outcomes for children in Pre-K (4 years of age) should include the following: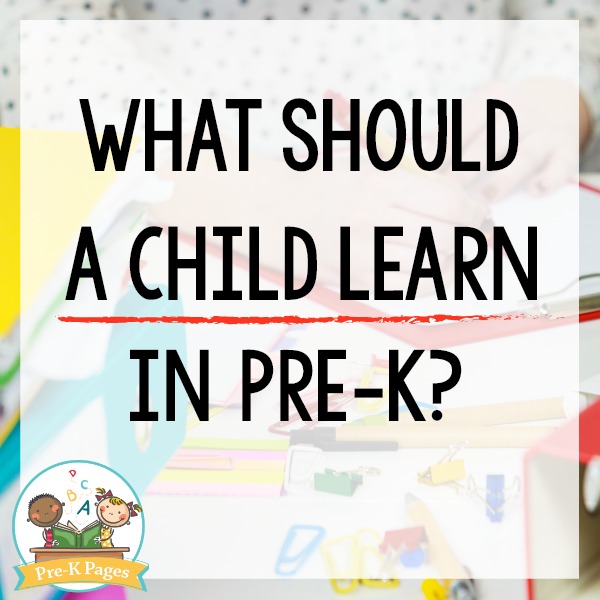 Math
A good pre-k curriculum has math outcomes for children who are 4 years old that include the following:
Counts with one-to-one correspondence up to 10
Identifies more, less, or same
Orally counts numbers 0-20 in order
Identifies without counting objects up to 10 (subitizing)
Recognizes and identifies numbers 0-10
Identifies more, less, or same
Recognizes, names, and creates common shapes
Uses positional words to identify location (over, under, above, on, beside etc.)
Understands and uses non-standard units of measurement
Capacity
Heavy and light
Night and day (in relation to passage of time)
Sorts objects that are the same or different
Basic data collection (graphing, tally marks etc.)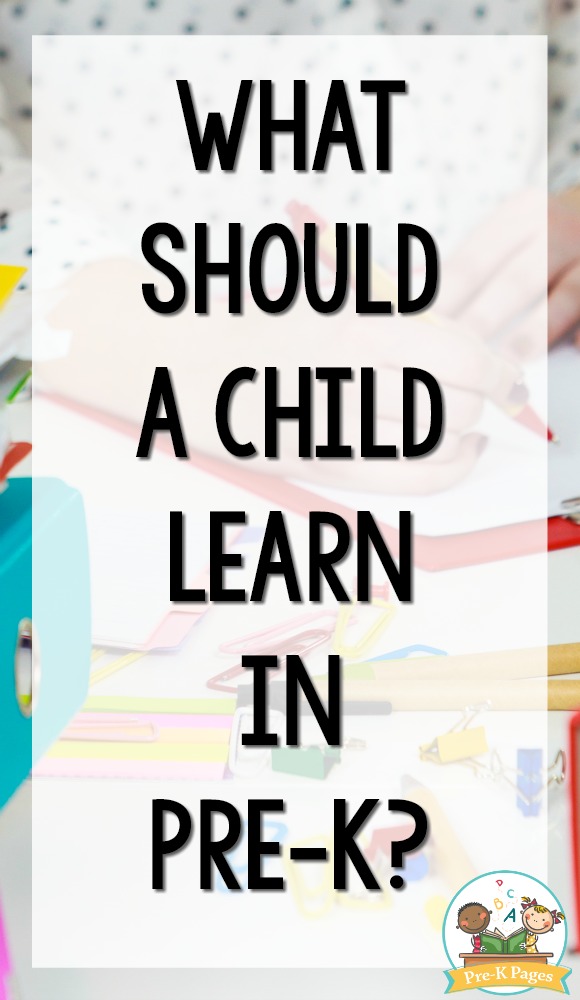 Pre-K Curriculum: Science
The science outcomes in a Pre-K curriculum designed for children 4 years old should include the following:
Investigates, describes, and discusses energy (light, heat, and electricity)
Identifies and use simple science tools (balance scale, hand lens, measuring stick or tape etc.)
Hot and cold
Force and motion (magnets, ramps)
Needs of animals (food, shelter, water, air)
Needs of a plant (water, soil, air, light)
Environments and habitats
Earth (rocks, soil, sand)
Sky (sun, stars, moon, planets)
Weather (clouds, wind, rain, snow)
Understands importance of caring for the environment (recycling and conservation)
Can observe, explore, predict, collect and analyze data
Pre-K Curriculum: Social Skills
Appropriate social skills for children who are 4 years old include:
Demonstrates understanding of how to care for classroom materials (clean-up)
Carries out classroom helper jobs
Can share space and materials with others (follows a center time routine)
Can identify and describe their own feelings and emotions
Has been introduced to and seeks out specific tools or techniques to help regulate emotions (yoga, calming techniques etc.)
Can interact with classmates appropriately and makes friends independently
Understands that others have emotions that may be different from their own (empathy)
Cares for own personal needs (toilets independently, can put coat on, zip, button, blows nose independently etc.)
Can communicate their own wants and needs verbally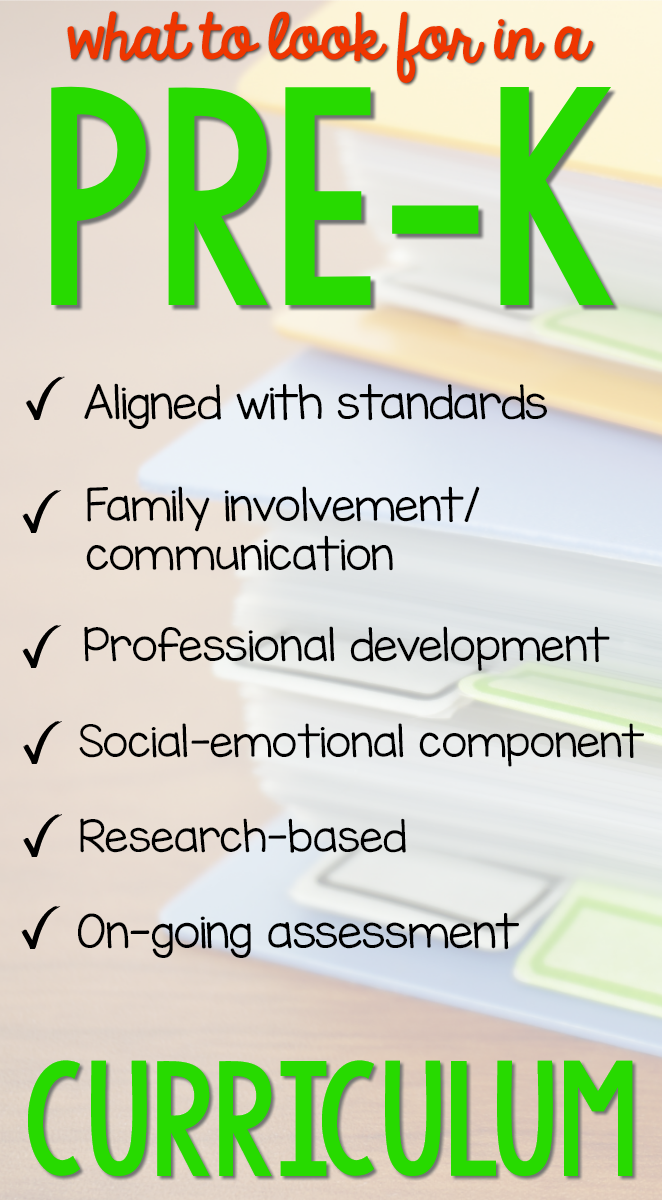 Language and Communication Skills: Speaking and Listening
Understands and follows two-step and three-step directions
Uses words to describe people, places, and things
Understands simple conversational rules
Child has a speaking vocabulary of 3,000-4,000 words
Understands non-verbal conversational cues
Speaks in complete sentences of four or more words
Understands instructional language (stand up, sit down, line up etc)
If you suspect your child may have a speech or language delay, or any learning difficulties, you should contact your local school district immediately and request a free evaluation for your child. Public school districts in the U.S. are required by law to provide screening and evaluation for children ages 3 and up. The sooner any delays or difficulties are identified, the more quickly your child can begin receiving services. Do not wait until your child starts public school to make this request, it's always better to do it before your child formally starts school.
If your child is already enrolled in a public school, ask your child's teacher for guidance in requesting services.
More Teaching Tips