Preschoolers are always learning. They learn from the time they get up in the morning until they sleep at night. The primary way preschoolers explore and investigate the world is through play! Parents and teachers can help preschoolers explore by offering different types of materials for them to explore. Simple activities that teachers may do in the classroom are also perfect preschool activities for parents to do at home. Check out these 30 ideas for teaching preschool at home: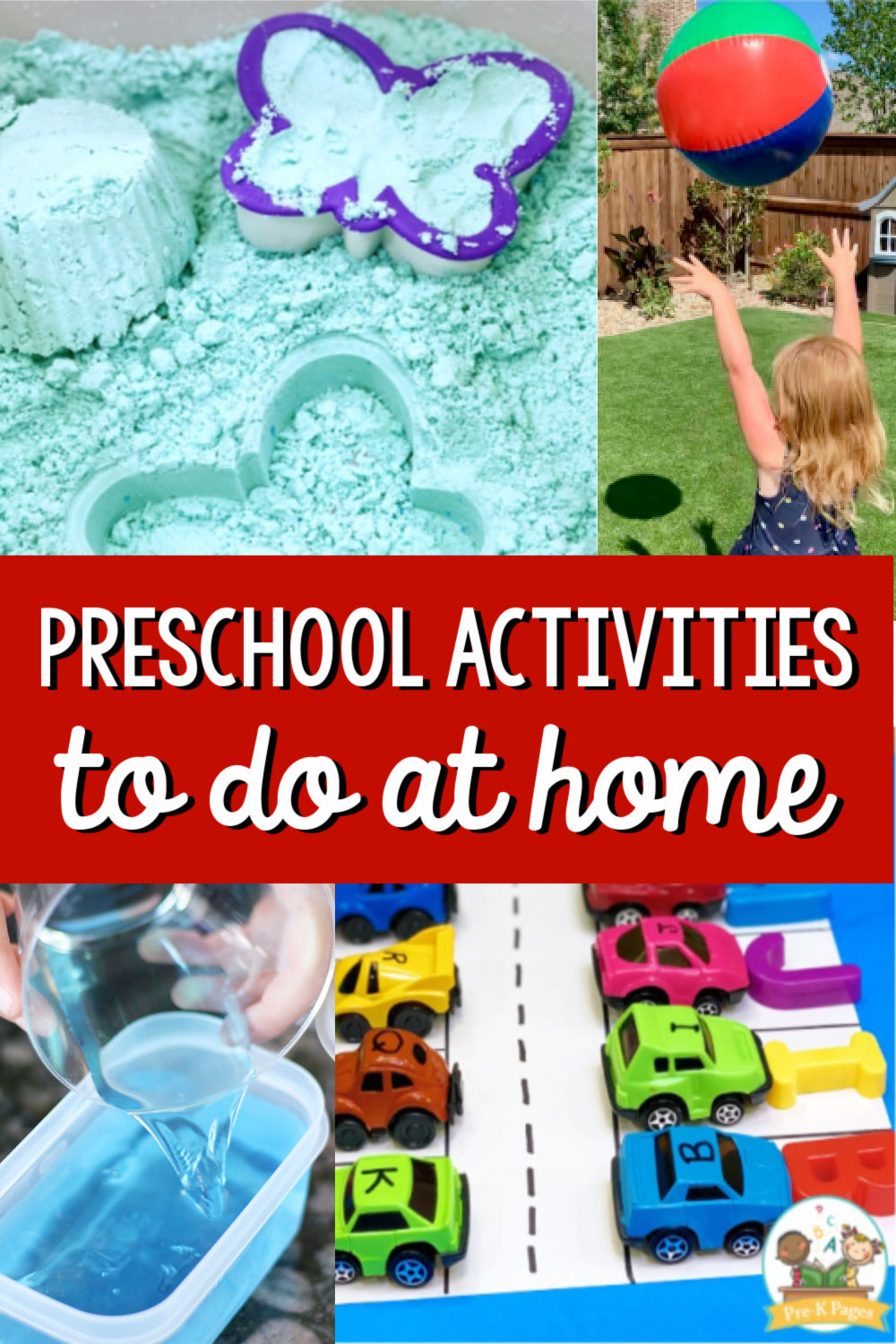 Preschool Activities at Home
Names and Letters
Name Clothesline – Clip name letters in order on the small clothesline.
Name Tree Activity – Pick letters off the tree to make the name.
ABC Parking Lot – Park the marked cars in the correct parking space.
Using Magnetic Letters – Build letter recognition with these ideas.
Fine Motor and Writing
Sensory Writing Tray – Practice hand control and forming letters in a sand tray.
Scissor Cutting Skills – Develop skills using scissors with these easy ideas.
Quiet Bins – Use hands and fingers with these independent learning bins.
Rainbow Crayons – Recycle broken crayons into new rainbow writing tools.
Math
Make a Shapes Photo Book – Find and photograph shapes around the house to create a book.
Exploring Volume – Pour water into containers of various sizes.
Five Frames – Develop number concepts by exploring 1-5.
Tactile Glue Numbers – Create "3D" numeral cards for your child.
Counting Game – Make this counting board game to play together.
Reading
Book Lists – Find a list of great preschool books on just about any topic.
Environmental Print – Use print your child sees daily (signs, labels) to build literacy skills.
Read Aloud Tips – Read books together for fun…and learning!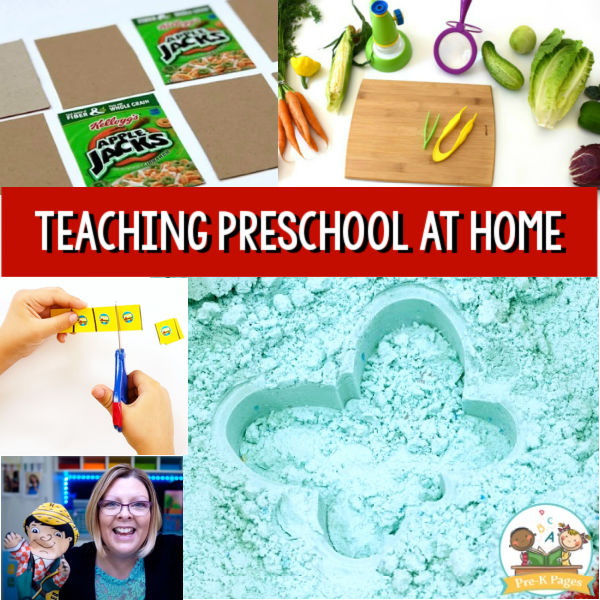 Teaching Preschoolers at Home
Science
Ice Cream in a Bag – Pour in ingredients, shake, and make ice cream!
Color Games for Preschoolers – Play 3 games to build color recognition.
Exploring Vegetables – Take a close look at those vegetables in your kitchen.
Color Mixing – Mix different colors of water to make new colors.
Bubble Science Experiment – Make your own bubble solution and wands.
Sensory
Play Dough Recipe – Make your own play dough in your kitchen.
Play Dough Mats – Print one of these mats to use with your homemade playdough.
Cloud Dough – Explore with this soft, scoopable, moldable sensory material.
Movement
Indoor Games – Use this collection of games to get your child moving!
Clapping and Stomping Letters – Combine movement and letter recognition in a great mashup.
Beach Ball Game – Strengthen coordination, body control, and balance plus have fun, too.
Music and Videos
Songs and Rhymes – Sing along with Vanessa while building brain and body.
Fairy Tale Videos – Build on understanding learned when reading by watching these videos of familiar fairy tales.
More Songs – Find songs related to all kinds of themes.
Need more structure for your preschool at home?
Check out our complete Preschool at Home Lesson Plans! We offer 14 weeks of instruction you can purchase separately (like our Nursery Rhymes Vol. 1 Lesson Plans), OR you can get the whole bundle of take home lesson plans at a discounted rate!