January is a time of new beginnings. A new year starts. Nature is resting during the winter. Your preschoolers start back to school after the excitement of holiday break. These preschool themes for January can help you have a great start to the next part of your learning year.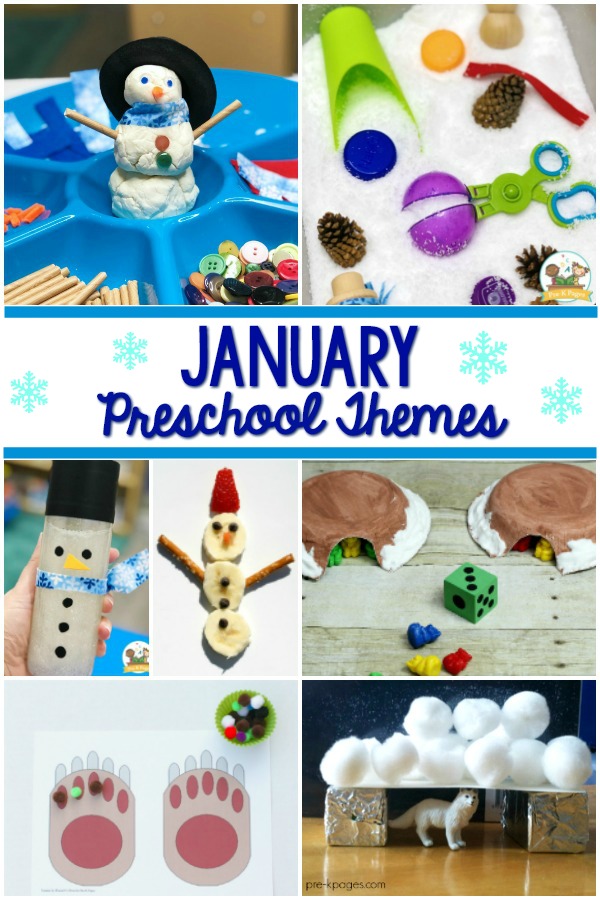 January Preschool Themes
WINTER/SNOW
January is a great time to think and explore winter. This theme is also a good connection between December and January, making easier transitions after the winter break. You could repeat some activities from the previous month and introduce new ones.
Winter Bingo
Winter Songs for Preschoolers
Winter Books
Winter Tree Fine Motor Exploration
Snowy Day Sensory Writing Tray
Snow Play Dough
Snowflakes Scissors Practice
Snowflakes Subitizing Activity
Activities for "A Snowy Day"
Winter Drawing Activity
Winter Science Activities
Mitten Visual Discrimination
Snowman Sensory Bottle
Snowman Play Dough
Snowman Sensory Bin
Snowmen at Night: Coffee Filter Art
Banana Snowman
Snowman Art: Painting with Circles
Winter Play Dough Counting Mats
Winter Math Activities
Winter Literacy Activities
BEARS
Winter seems like a natural time to think about bears. Most bears are hiberating in the winter. Some bears are out in the snow. This would also be a good theme to use as you study the Goldilocks fairy tale. These activities could get you started on a bear theme. (See the hibernation theme below for related ideas.)
Bears Theme Activities
Going on a Bear Hunt Snack
Bear More or Less Activity
Bear and Hibernation Books for Preschoolers
Counting on Bear Paws
Activities for Going on a Bear Hunt
Bear Phonological Awareness Activity
Polar Bear Activities
Goldilocks and the Three Bears Bundle
Goldilocks Mini Word Wall
Goldilocks Math Activities
Goldilocks Literacy Activities
HIBERNATION/ANIMALS IN WINTER
Bears are not the only animals who hibernate in the winter. And other animals are active in the cold weather season. All preschoolers love to learn more about animals, so this theme may be just what your kids will enjoy.
Bears and Hibernation Books
Hibernating Animals Literacy Activities
Hibernating Animals Math Activities
Groundhog Activities
Over and Under the Snow Building Activity
The Snowy Nap: Literacy Activity
Penguin Activities
Penguin Counting Game
Books About Penguins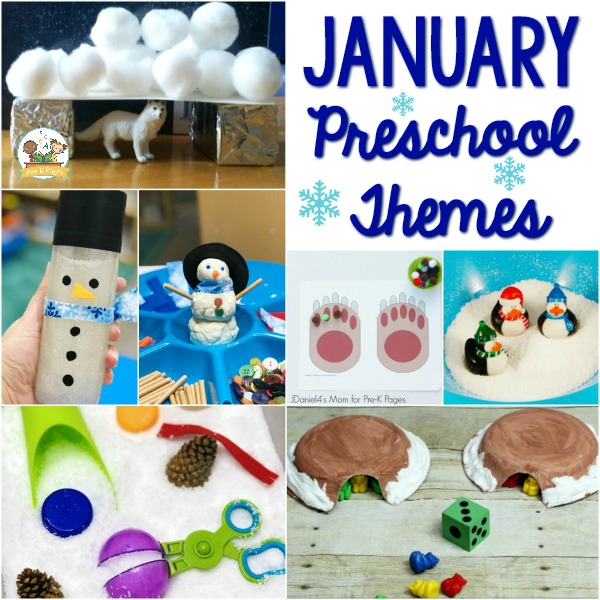 Curriculum Themes for January
SEASONS/CALENDAR
January is a natural time to talk about the calendar, the seasons, and a new year. Time is a difficult concept for many preschoolers to grasp. Use these activities as you think about the beginning of a new year.
Geoboard Seasons Task Cards
Books About the Seasons
Books About Trees
Activities Exploring the Four Seasons
New Year Celebration Activities
New Year Counting Memory Game
Animal Life Cycle Books
What's the Weather? Dramatic Play Dress-Up
Make and Use a Linear Calendar
Linear Calendar Kit
Seasons Pattern Blocks Bundle
LUNAR NEW YEAR
The Lunar New Year (or Chinese New Year) occurs near the beginning of the calendar new year. You could explore a different culture's traditions as a theme with your class.
Books About Chinese New Year
Celebrating Lunar New Year
Ideas for Chinese New Year
Dramatic Play Chinese Restaurant
NURSERY RHYMES
Learning nursery rhymes helps build literacy skills and builds preschoolers' sensitivity to language, rhythm, and rhyme. Here are some ideas that will help you spotlight nursery rhymes or build more learning with them.
Dish and Spoon Painting
Nursery Rhyme Number Game
Nursery Rhyme Activities for Preschoolers
Nursery Rhyme Bundle
Nursery Rhyme Fluency Sticks
Muffin Man Tossing Game
Nursery Rhyme Four Corners Game
Jack Be Nimble Gross Motor Activity
Humpty Dumpty Letter Crack
Jack and Jill Free Printables
Little Boy Blue Activities
Three Little Kittens Activities
Hickory Dickory Dock Activities
Itsy Bitsy Spider Literacy and Math Activities
Little Bo Peep Math and Literacy Activities
Muffin Man Math and Literacy Activities
Row Your Boat Math and Literacy ActivitiesBaa Baa Black Sheep Literacy and Math Activities
Hey Diddle Diddle Math and Literacy Activities
Mary Had a Little Lamb Literacy and Math Activities
Need more theme ideas? Check out our theme list.
Curriculum Themes