Does your classroom continue to meet throughout the summer? Or maybe your group wants to have a summer play day/week/camp and you are looking for things to do. These summer preschool themes can be fun ways to continue learning in those dog days. And in the comments, let us know other themes you explore in the summertime.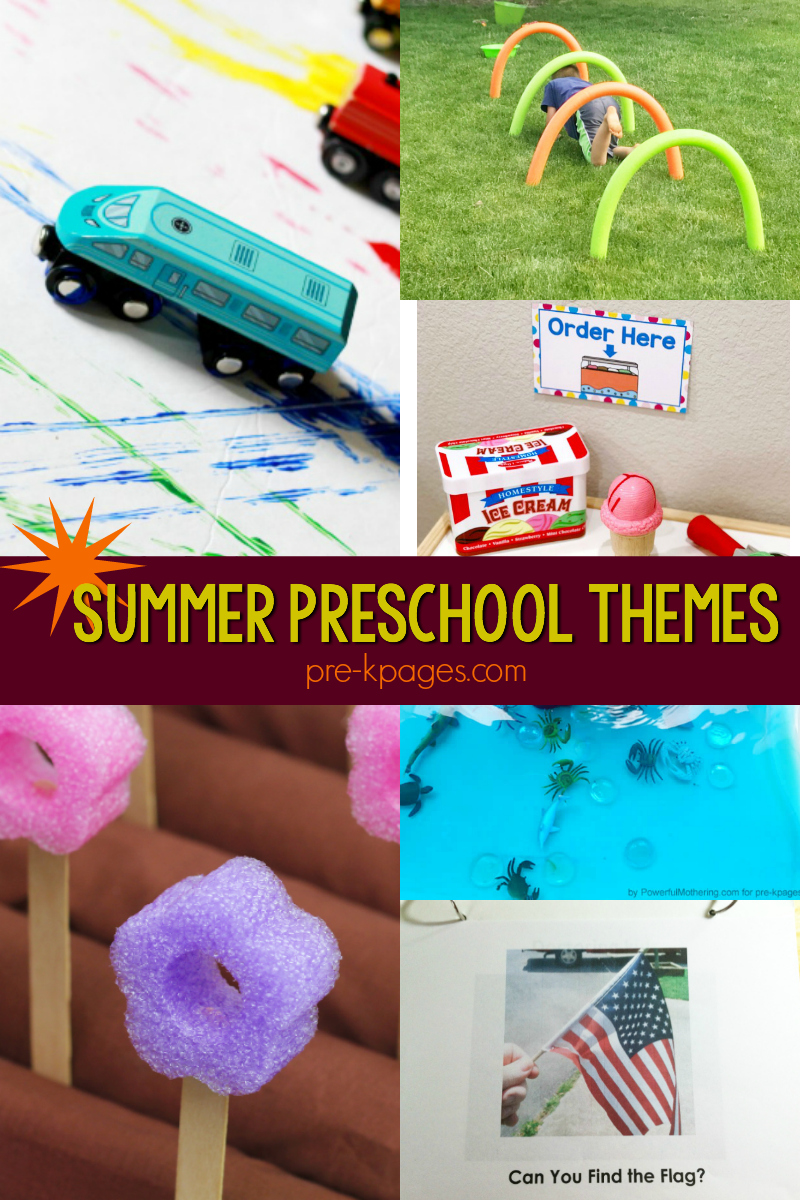 Summer Preschool Themes
OCEAN
In the summer, many preschoolers and families go swimming at the pool or travel to the beach. Explore the ocean and beach in the summer to celebrate these fun summer days. If your preschool has a summer program, this theme can be a good transition from May to June.
Ocean Songs for Preschool Kids
Ocean Theme Literacy Activities
Octopus Science Exploration
Ocean Theme Math Activities
Ocean Theme Fine Motor Play
Cardboard Tube Fish Painting
Ocean Play Dough Surprise Game
Ocean Sensory Bin
Snack for Ocean Theme: Sea Turtles
Ocean Theme Counting Activity
Alphabet Shells Sensory Bin
Beach Ball Game
Ocean Picture Books
SPORTS/BALLS
Summer can be a great time to go outside to play and explore. A theme related to sports, balls, or the Olympics (if it is an Olympic year) can be a fun summer learning experience. You may even want to have a field day for your preschoolers. These activities can get you started.
Beach Ball Gross Motor Game
Feed the Ball Math Activity
Muffin Pan Tossing Activity
Moon Crater Tossing
Ball Theme Books
Gross Motor Tools and Toys
Activities that Use Balls
Vestibular System Tools and Toys
Activities that Celebrate Olympics
Outdoor Obstacle Course
Walk the Line Game
Olympic Rings Game
Movement Games and Activities
Yoga in the Classroom
Field Day Ideas for Preschoolers
NEIGHBORHOOD/COMMUNITY
Some holidays in the summer celebrate country or other patriotic themes. The concept of "country" may be difficult for preschoolers. But they understand their neighborhoods, communities, and towns. A theme to explore community places and the preschoolers' homes could be perfect for summer.
Go on a Flag Hunt
Building Bridges
Grocery Store Dramatic Play
Books About Structures and Houses
Flower Shop Dramatic Play
Community Helper Bingo
Hair Salon Dramatic Play
Restaurant Dramatic Play
Pizza Shop Dramatic Play
Bakery Dramatic Play
Community Helper Books
Community Helper Songs
Three Little Pigs Literacy/Math Bundle (houses)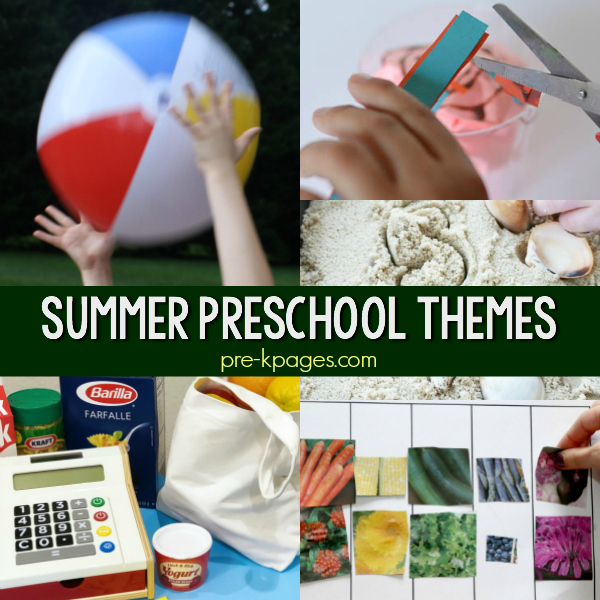 Curriculum Themes for the Summertime
FATHERS AND MOTHERS
With Mother's Day in May and Father's Day in June, a focus on parents or families seems like a natural fit for early summer. Your theme should broaden to focus on relevant and important adults or caregivers in all children's lives (grandparents, uncles, aunts, neighbors/friends). Use these ideas as a beginning point for a mothers and fathers theme.
I Love You Paintings
Mothers Book Writing Activity
Decorative Magnet Gift
Thumbprint Keepsake
Bookmark Gift
Photo Frames
Key Chain/Bag Tag
V.I.P. Tea: A Mother's Day Alternative
Donuts with Dudes Party
And check out the bundle with both party ideas: Mothers/Fathers Event Bundle
ICE CREAM
What preschooler doesn't love ice cream? While ice cream is a treat that can be enjoyed year around, it seems to be a great fit for summer. Warm days and cold ice cream. Use these ideas to begin your exploration into a cool preschool theme.
Ice Cream in a Bag
Ice Cream Fine Motor Activity
Books About Ice Cream
Ice Cream Shop Dramatic Play
Ice Cream Toppings Printable
More Activities for Ice Cream Theme
GARDENING
Whether raising vegetables or flowers, gardens are often fully growing in the summer. A gardening theme can be fun in the summer as boys and girls think about all the things growing around them.
Pretend Play Garden
Peter Rabbit Activities
Patterning with Flowers
Flower Play Dough
Painting with Flowers
Vegetable Number Puzzles
Planting a Rainbow Sort
Books About Seeds and Plant Life Cycles
Planting Seeds with Preschoolers
Making Vegetable Soup
Lima Bean Life Cycle
Sunflower Life Cycle
Peter Rabbit Math Activities
Peter Rabbit Literacy Activities
Flower Shop Dramatic Play
Garden and Farm Stand Dramatic Play
TRANSPORTATION
Summer is often the time for travel and vacations. Exploring different types of transportation may be just the thing for your young travelers. Check out these ideas for a transportation theme for summer.
Activities for a Transportation Theme
Transportation Bingo
Transportation Books
Books About Buses
Transportation Play Dough Activity
Transportation Color Sorting and Mixing
Exploring Colors with Trains
Making Patterns with Cars
Transportation Literacy Activities
Transportation Math Activities
Taco Truck Dramatic Play
Alphabet Roads
And check out these summer books!
Need more theme ideas? Check out our theme list.
Curriculum Themes