August may be the kick-off of your school year. Consider curriculum themes and concepts that are familiar to preschoolers and will develop beginning skills. These August preschool themes can help you begin the year on the right foot and have some fun learning times, too.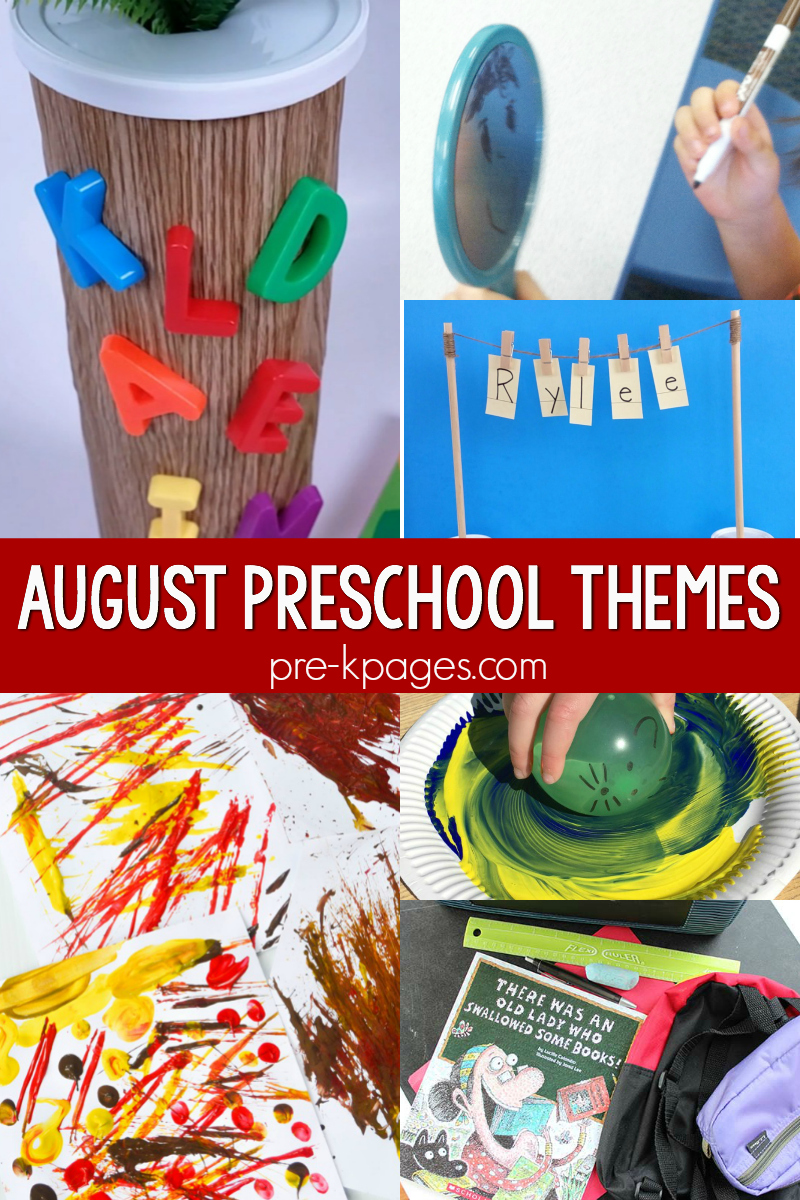 August Preschool Themes
ALL ABOUT ME
Lead the children to think about themselves, their likes and dislikes, their names, and the things that can do. Explore all about me in August.
All About Me Books
All About Me Activities
Body Reflexes Game
Walk the Line Movement Game
About Me Pizza Snack
Birthday Party Dramatic Play
Question of the Day: Do You Like…?
Draw Self-Portraits on Mirrors
Measure Your Body with Blocks
Books About the Body
Class Book: Here Are Our Hands
Books About Emotions
Feelings and Emotions Posters and Printable Books
NAMES
Names are used to build literacy with preschoolers in all kinds of ways. Names can be a part of your All About Me theme, part of an ABC theme, or as a theme on its own.
Clothesline Names
Activities Using Names
Clothespin Name Activity
Name Books
Alphabet/Name Collage
Daily Sign-in Sheets
Name Mail Delivery Game
SCHOOL
A school theme can focus on beginning the year or developing the classroom community. Overall, this theme would help preschoolers understand how to work and play in your classroom.
Best Beginning of School Books
Books About Teachers and Librarians
Books About Buses
Back to School Storytelling Box
Where Is Pete the Cat?
Classroom Rules
Picture Schedule Cards
ABCs/ALPHABET
Preschoolers learn letters and develop beginning literacy by using letters in context. They develop understanding about the letters of their names or other meaningful letters. Reinforce letter learning by providing activities that call attention to letters, especially letters in their names. These activities work great as a part of a names or About Me theme.
Alphabet Books for Preschoolers
Alphabet Play Dough Mats
Clapping and Stomping Alphabet Activities
Alphabet Roads
Alphabet Tactile Cards
Magnetic Alphabet Tree
Alphabet Fine Motor Dot Pages
Eye Doctor Alphabet Activity
Alphabet Puppy Chow Game
Alphabet Party Sensory Bin
Alphabet Sticker Resist Art
Building Letters in the Blocks Center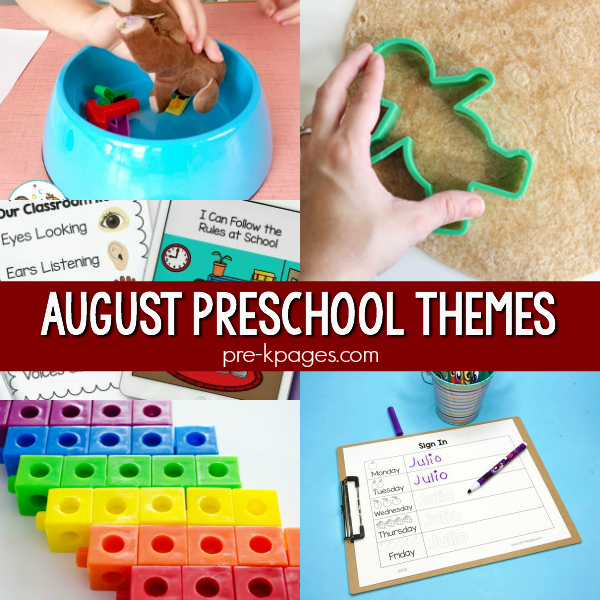 August Curriculum Themes for Preschool
COLORS
Colors are a concept that preschoolers learn early but continue to develop. Offer activities on a color theme to help preschoolers learn more about the world and the things in it.
Color Matching Bones
Green Sensory Bin (change to any color)
Color Sorting Game
Colored Corn Mosaic
Green Mystery Bags (change to any color)
Color Sorting on Light Table
Exploring Colors with Trains
Water Balloon Painting
Color Mixing
FAIRY TALES
Fairy tales are great sources of literacy and language development. You may spread a study of various fairy tales throughout your school year. But a focus on fairy tales could be a fun theme for the beginning of the year. Check out these ideas to get started with fairy tales.
Milk Carton Gingerbread Houses
Planting and Growing a Beanstalk
Three Little Pigs Class Book
Little Red Hen Printable Picture Recipes
Painting with Wheat
Beanstalk Roll, Say, Write
Goldlilocks and Three Bears Activities
Jack and the Beanstalk Activities
Little Red Hen Activities
Little Red Riding Hood Activities
Three Little Pigs Activities
And check out the Fairy Tale Bundle with lesson plans and activities for different tales.
FARM
A farm theme would be a fun theme for August. Your preschoolers could think about vegetables and fruit they enjoy eating as well as explore where those foods come from. If you do not plan to feature a farm or harvest theme in the fall, the beginning of your school year could be a great place to learn about the farm. Use these ideas to begin your planning.
Farm Sensory Bin
Tractor Mud Painting
Painting with Wheat
Farm Small World Sensory Play
Farm Animal Counting Activity
Farm Theme Books
Farm Theme Center Activities
Farm Stand Dramatic Play
Farm Math Activities
Farm Literacy Activities
Need more theme ideas? Check out our theme list.
Curriculum Themes